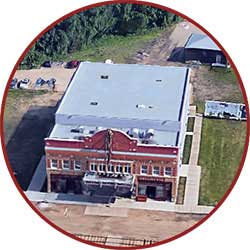 The Capitol Theatre, on 1920 Street of Fort Edmonton Park, is the best place for playing a guitar, piano, or to sing. It's cement, sound-proof structure will not let a single note escape to alert the zombies of Deadmonton.




With its brick front and cement sides, it is very close to being a safe house, as well; replace the front glass entry doors and you would have a formidable building to withstand a horde of the dead.
Attached, is a small shop called, Kline's, where you can find eyeglasses. They will most likely not be the perfect prescription, but they should make things a little more clear.