Fort Edmonton, the fort within the park, is the ultimate safe-house. It's main gate comes with a great little feature, a small latched opening that you could use to safely dispatch the dead from behind the safety of the fort walls.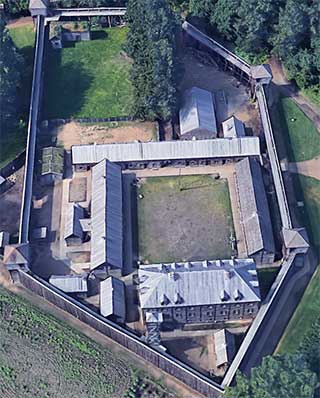 Observe your situation through the four, thirty-five foot (10.7 meters) high towers and the thirty-seven (11.3 meters) watch tower. From here you can plan your defensive actions. Need more weapons to dispose of Deadmonton's dead? Make them on site at the blacksmith shop.
The Fort has everything you need--housing, gardens, security, etc--to live a long while within its walls, should you need to do so. Plant crops, use the ice-house and clay bake ovens, then hunker down. Once behind the twenty foot (6.1 meters) walls, you can rest safely knowing that nothing will be getting through.